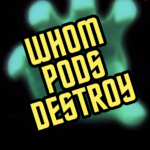 We are delighted to be back in the studio for another edition of Whom Pods Destroy.
In this episode Terry, Graham and Derek get stuck into Let That Be Your Last Battlefield: an episode from the third season of Star Trek well known for its commentary on contemporary racism.
The team examines the messages in this episode and draw some unexpected conclusions.