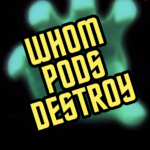 In the latest episode of Whom Pods Destroy Derek, Graham and Terry rejoice in the glory that is Star Trek IV: The Voyage Home. This is a film that is close to the heart of both Graham and Terry who consider it to be the best, most well rounded, of all the Star Trek films. Better even that Wrath Of Khan.
Listen to the podcast via the player above or subscribe via iTunes at:
https://itunes.apple.com/gb/podcast/whom-pods-destroy/id1162286063
For non iTunes podcatchers the feed is:
http://www.whompodsdestroy.com/feed/podcast
Alternatively, an ogg vorbis file of the podcast is here.
Contact the team via Twitter at:
Alternatively by e-mail at:
garth@whompodsdestroy.com
We're also on Instagram: